I've been working on this for a while, but
ack_attack's JAM-boree yesterday motivated me into finishing it up. :D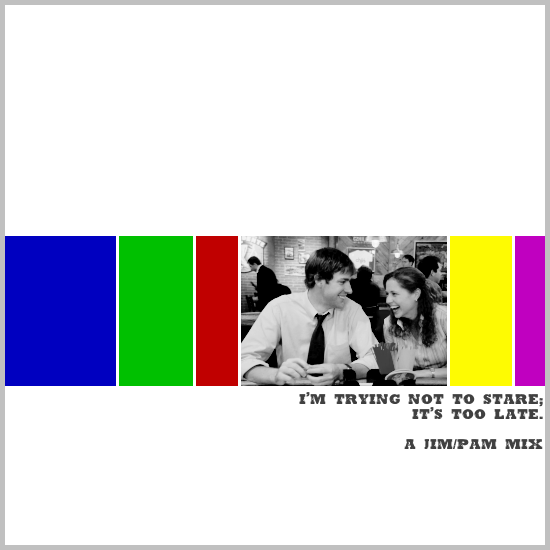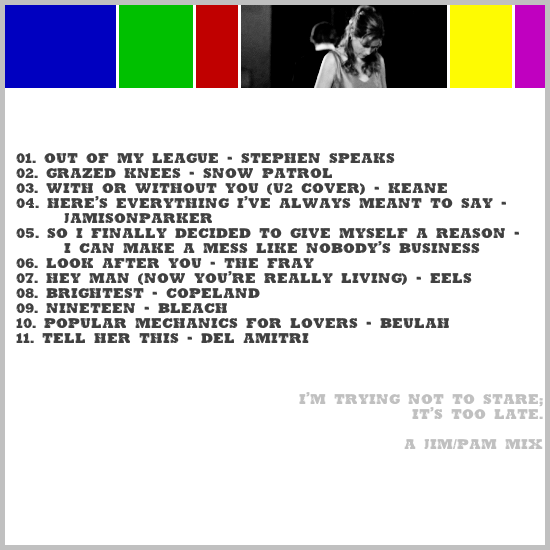 "Out of My League" - Stephen Speaks
It's her hair and her eyes today
that just simply take me away,
and the feeling that I'm falling further in love
makes me shiver but in a good way.
All the times I have sat and stared, as she thought fully thumbs through her hair.
And she purses her lips, bats her eyes and she plays with me, sitting there slack jawed and nothing to say.
'Cause I love her with all that I am,
and my voice shakes along with my hands.
'Cause she's all that I see, and she's all that I need, and I'm out of my league once again.
(full lyrics)


"Grazed Knees" - Snow Patrol
It's easier to lie and be safe
Time and time again I'm half stalled
One giant leap of faith is easy
When everyone you ask is so sure
(full lyrics)


"With or Without You (U2 cover)" - Keane
Through the storm we reach the shore
You give it all but I want more
And I'm waiting for you
With or without you
With or without you
I can't live
With or without you


"Here's Everything I've Always Meant to Say" - Jamisonparker
Just be in love and I'll kiss you like you've always wanted
Just close your eyes, I'll still live as if I'm dying
If I don't make your heart skip a beat then hate me
If I don't make you feel anything than it's me
I just want you to feel beautiful
For once in your life
(full lyrics)


"So I Finally Decided to Give Myself a Reason" - I Can Make A Mess Like Nobody's Business
It's a night of many frightening things to take in
It's not the way we please ourselves or our friends
It's what we won't accept
It's what will scare us now
Is ourselves, it's ourselves


"Look After You" - The Fray
If I don't say this now I will surely break
As I'm leaving the one I want to take
Forgive the urgency but hurry up and wait
My heart has started to separate
(full lyrics)


"Hey Man (Now You're Really Living)" - Eels
Do you know what it's like to care too much
'Bout someone that you're never gonna get to touch?
Hey man
Now you're really living


"Brightest" - Copeland
If you find yourself here on my side of town
I'd pray that you'd come to my door
Talk to me like you don't know what we ever fought about
Cause I don't remember anymore
I just know that she warms my heart
And knows what all my imperfections are
And she said that I was the brightest little firefly in her jar


"Nineteen" - Bleach
I think you're amazing
Everything you do and say
Just blows me away
I can't stand to be alone
Without you
Without you
All I do is think about you
(full lyrics)


"Popular Mechanics for Lovers" - Beulah
I know he knocks you off your feet.
You're so bitter, you think he's sweet.
Well, he's wrong for you, I swear.
Did you forget to read the script?
There was never a role for him.
It was always you and me. Just me.


"Tell Her This" - Del Amitri
Tell her not to go
I ain't holding on no more
Tell her nothing if not this; all I want to do is kiss her
Tell her something in my mind
Freezes up from time to time.
(full lyrics)


Bonus song: "Hands Open" - Snow Patrol
Why would I sabotage the best thing that i have,
Well it makes it easier, exactly what I want.
With my hands open and my eyes open
I just keep hoping that your heart opens.
(full lyrics)
[Why is it a bonus song? Because I just really listened to the lyrics a few minutes ago and I'm too lazy to change the cover art.:D ]




Note: The title of the mix is the first line of Snow Patrol's "Grazed Knees."